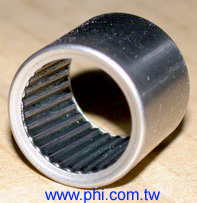 Needle Sleeve for BMW parts number 11331261712
We have brand new parts for BMW airhead motorcycle riders. This needle sleeve bearing is the bearing for rocker arm shaft of the BMW airhead. Replace your loose or damaged rocker arm shaft bearings.
* For BMW motorcycle rocker arm shaft.
* Replacement for BMW parts # 11331261712 or 11 33 1 261 712
* Use the best material in the industry
* Precision made for fine tune
* Reasonable price with excellent performance
* For classic bike with great demand
* For the airhead BMW models : R100MYS, R60/7, R80, R80RT, R65, R65LS, R80GS, R80ST, R100GS, R100R, R80_BASIC, R90S, R90/6, R100PD, R100GS, R75/7, R75/6, R100RT, R100PD, R65, R80, R80RT, R100/7, R100CS, R100RS, R100RT, R100RS, R60/6, R100S
This is well made in Taiwan and this product will fit on many classic BMW motorcycles. For fine tune of these bikes, these bearings will do the job. You are very welcome to contact us for any questions. Email : power.hub@msa.hinet.net We will be very glad to assist you.
適用於 BMW 機車 氣缸頂 汽門搖臂軸 滾針軸承 零件號碼 11331261712 or 11 33 1 261 712
ベアリング、軸受 、 パーツ、部品、コンポーネント、エンジン、バイク

BMW旧式オートバイのロッカーアーム専用のベアリングを提供いたします。(パーツナンバーは BMW parts # 11331261712です)
適用モデル:R100MYS, R60/7, R80, R80RT, R65, R65LS, R80GS, R80ST, R100GS, R100R, R80_BASIC, R90S, R90/6, R100PD, R100GS, R75/7, R75/6, R100RT, R100PD, R65, R80, R80RT, R100/7, R100CS, R100RS, R100RT, R100RS, R60/6及び R100Sなど。

ご必要となる方々は、どうぞ下記の連絡方をご利用ください。


Power Hub Inc.
email: power.hub@msa.hinet.net
+886-2-28962642
+886 -97-888-1990