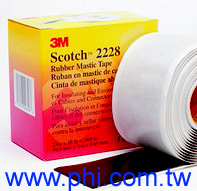 3M Scotch Rubber Mastic Tape 2228 RoHS
2228 - www.phi.com.tw : a conformable self–fusing rubber electrical insulating & sealing tape. It consists of an ethylene propylene rubber (EPR) backing coated with an aggressive, temperature–stable mastic adhesive. The tape is made 65 mils (1,65 mm) thick for quick application build–up. Designed for electrical insulating and moisture sealing applications. Can be used on copper or aluminum conductors rated at 90°C, with an emergency overload rating of 130°C. Excellent resistance to moisture and ultraviolet exposure and is intended for both indoor and weather exposed outdoor applications.
Features: • Conformable for application over irregular surfaces • Compatible with solid dielectric cable insulations • Self-fusing tape • Flexible over wide temperature range • Excellent weather and moisture resistance • Excellent adhesion and sealing characteristics with copper, aluminum and power cable jacket materials
* Primary electrical insulation for cable and wire connections rated up to 1000 volts/ * Electrical insulation and vibration padding for motor leads rated up to 1000 volts/ * Primary electrical insulation for bus bar connections rated up to 35 kv /* Padding for irregular shaped bus bar bolted connections / * Moisture seal for cable and wire connections /* Moisture seal for service drops /* Moisture seal for ground wire and rod connections /* Jacket seal on power cable applications
Properties

Typical Value

Temperature Rating 4

Temperature Rating 6

194ºF (90ºC)

266ºF (130ºC)

Color

Black

Thickness 1

65 mil (1,65mm)

Adhesion 5

Steel 15.0lb/in (26,2N/10mm) PE 10.0lb/in (17,5N/10mm)

Fusion 4

Pass (Type I)

Tensile Strength 1

150psi (1,03N/mm2)

Elongation 1

1000%

Dielectric Breakdown 1 (Wet or Dry)

500V/mil (19,7kV/mm)

2228的厚度1,65 mm

Dielectric Constant 1

3.5

Dissipation Factor 1

1.0%

Water Absorption 3

0.15%

Water Vapor Transmission Rate 2

0.1g/100in2/24hr

Ozone Resistance 2

Pass

Heat Resistance 4

Pass, 130ºC

UV Resistance 4

Pass
良好防水、自融性、膠帶、電氣絕緣及密封的膠帶。2228 # 防水絕緣膠帶是一種以乙丙橡膠 EPR 為帶基, 塗有膠粘劑Mastic的自融性膠帶。 良好的耐熱性及防水性, 高熱傳導性, 阻燃性, 對不規則的表面有良好的從形性, 對鋼、鋁材及電纜外覆有相當好的粘著性, 90℃下,仍能保護穩定的物理及電氣特性.
帶基為乙丙橡膠,表面塗有粘接力強、熱穩定性好的膠粘劑。它可用在電氣絕緣和防水密封等場合,對銅、鋁和電纜護套材料。3M #2228自融防水膠帶和3M 33+ PVC絕緣膠帶一起使用,可對電氣線路提供可靠的防水密封和優良的抗紫外線保護。
‧ 用於通信設備基站、天線、窺線等接頭處防水 ‧ 架空絕緣導線接頭的防水密封保護 ‧ 電纜外護套修復 ‧ 適用於1000伏及以下主絕緣恢復 ‧ 適用於1000伏及以下馬達引線的絕緣 ‧ 35KV及以下母線排連接的主絕緣 ‧ 地線的防水密封
該膠帶厚度為1.65mm,帶基是乙丙橡膠,表面塗有壓敏型橡膠膠粘劑。通常使用溫度90℃,緊急溫度130℃。 最佳使用溫度為 0~38℃,用於戶內或戶外均可。 2228膠帶在通常情況下,不會產生開裂等現象。它對聚合物電纜的護套和絕緣均有良好的相容性,並且對銅和鋁沒有腐蝕性。 為得到最佳的從形性及防水密封效果,繞包時應拉伸膠帶,使之為原來拉伸前的寬度的四分之三。繞包完,宜用手在被包覆處擠壓膠帶,使層間貼附緊密無氣隙以便充分粘結。 最後,在2228膠帶外面,須半重疊繞包兩層PVC膠帶,以提供機械保護。
* Tape 2228: 1 in x 10 ft (25 mm x 3,05 m) 10 pcs per case, 2 in x 10 ft (51 mm x 3,05 m) 10 pcs per case, 2 in x 3 ft (51 mm x 0,9m) 48 pcs per case